Okay, be ready for photo over load...
I've been busy lately. Some parents have waited until the last minute for senior pics, AND ANNOUNCEMENTS!! So to say the least, I've been designing, and cropping, and sending proofs, re-wording, etc...
Today RIGHT after church (which was awesome)I took my hubby's little bro. out for some pics. He's graduating from the 8th grade. Actually, he's bieng "promoted" from the 8th grade. This guy has it all. He's sweet, goofy, loves the Lord, and in the last year he has turned into a "looker" I think it's his height... Anyways, I am super pleased with the way they came out, and I think his mom is too (my mother in law) We even designed an announcement/invite. All that took up my WHOLE day. Seriously.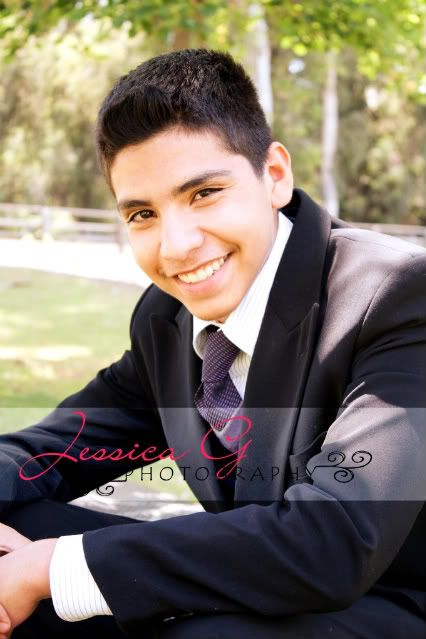 This guy here is my high school sweet heart. He's my bff. I also think he's kinda super gorgeous. He's also known as my superman. Been married almost 9 years, had lots of ups and downs, but I think we're doing alright. God is at the center of our marriage, and I'm glad because we wouldn't be able to stand eachother if we didn't have our eyes on God. Thank you Jesus! and thank you Hunny. For loving me.... even when sometimes i'm not so loveable...


HA! I just took a few of my little girl (suprise huh) Just so you all know... I do have other children. I know it may not seem that way, but I do. I have two boys. I know you mostly see this little girl, but I just can't help it!!! I love the faces she makes, and how she gets all wierd when the camera comes out! Okay... gotta put more of the boys up...


I did this guy's senior shoot just last week. He was easy. He knew what he wanted, and only had 1 change of clothes! Nice!


Did I mention his graduating class is 5?...


This is not his car. But he saw it in the parking lot, and HAD to take a pic next to it!


ARE YOU READY FOR A BEAUTY? This girl is totally super pretty. If we were in H.S. together, I would totally be intimidated by her beauty. But since I'm old, she was just a beautiful young lady. Well, I'm not that old. She even said so herself. I told her "wow, class of 2010 already. I graduated in 2000, can't believe it's been almost 10 years" and she said "Oh, I thought you looked young!" Yep. the young one called me young! Celebrate all...


See... pretty...


Um... can I please go back to H.S. and be this girl reincarnated?...


And the best part is... she loves the Lord! Now that's a keeper.
Okay, I'm tired.... comment please... PLEASE!!!!
G'nite...